---
Sichuan Xinsheng Plastic
China's Top 30 Plastic Packaging

Sichuan Xinsheng Plastic Industry Co.,Ltd.is a subsidiary of Xinsheng Group.It was established in 1995 and is located in Guanghan Economic and Technological Development Zone in Sichuan Province.The company was founded in 1995 and is a subsidiary of Xinsheng Group.The company is committed to providing environmentally friendly packaging products and comprehensive packaging solutions for large and medium-sized enterprises in the fields of food,pharmaceuticals,daily chemicals,industrial products,etc.After years of development,it has now become a large-scale plastic packaging product manufacturer and service provider in the southwest region.The company has total assets of more than 300 million yuan,covers an area of​​more than 300 acres and currently employs more than 360 people.
The company has passed ISO9001:2008 quality management system,ISO14001:2004 environmental management system certification,ISO2200:2005 food safety management system certification.It is equipped with domestic advanced automated production equipment,quality monitoring equipment,technology research and development equipment,100,000-level and 300,000-level dust-free standardized workshops and other infrastructure and professional technical teams.
After many years of hard work,Sichuan Xinsheng Plastic Industry Co.,Ltd.has been named as a national high-tech enterprise,one of China's top 100 packaging companies and China's top 30 plastic packaging companies.
In the future,Sichuan Xinsheng will closely focus on the group's development strategy,accurately grasp the development trend of the plastics industry,and enable the company to develop into a private enterprise with excellent industrial scale,management,corporate benefits,social contributions,and employee treatment in local enterprises,creating features Industrial chain of plastic product production.
China's Top 30 Plastic Packaging
large and medium-sized business partners
---
Qingyuan Xinsheng Plastic
National Operational Automation Supporting Production Base
2015year
Qingyuan Xinsheng Plastic Packaging Co., Ltd. was established in May 2015. The company's clean workshop is designed and built in accordance with the "Good Manufacturing Practice for Pharmaceutical Products".
Class D certification
The clean workshop has passed the Class D certification of Guangdong Provincial Drug Inspection Institute (cleanliness of up to 100,000), and has the conditions for the production of packaging materials such as food and health products.
Qingyuan Xinsheng is a subsidiary of Xinsheng Group.It is located in Qingyuan District,Qingyuan City,Guangdong Province,about 60 kilometers from Guangzhou city and 200 kilometers from Hong Kong and Macau.It is located in the"one-hour living circle"of the Pearl River Delta.Xinsheng Group's business has developed from inland to coastal delta.Strategic innovation and technological innovation are at the forefront of the times.While clearly showing each production optimization link,it focuses on innovation,efficiency,energy saving and quality services,focusing on analysis and consideration.The presentation of raw materials to final products has a place in the fiercely competitive plastic bag industry.
The production equipment invested by Qingyuan Xinsheng are all domestically advanced equipment.All supporting products use automatic detection and packaging equipment.The production process from raw materials to products does not require personnel selection and stacking,which greatly reduces the risk of foreign objects and human pollution.At the same time,labor costs have been greatly reduced,thereby improving the profitability of the enterprise.In order to better meet the customer's order delivery time,we have also created a professional transportation fleet,which is dedicated to customers'special vehicles,reducing the risk of product pollution during transportation.We strictly control the quality of our products,and strictly control the selection of raw materials,product technology,process control,and factory inspection to ensure that each product is qualified.
---
Jinhua Xinsheng Plastic Breaks Through the Supply Chain Model
"Build in the factory, seamlessly connect"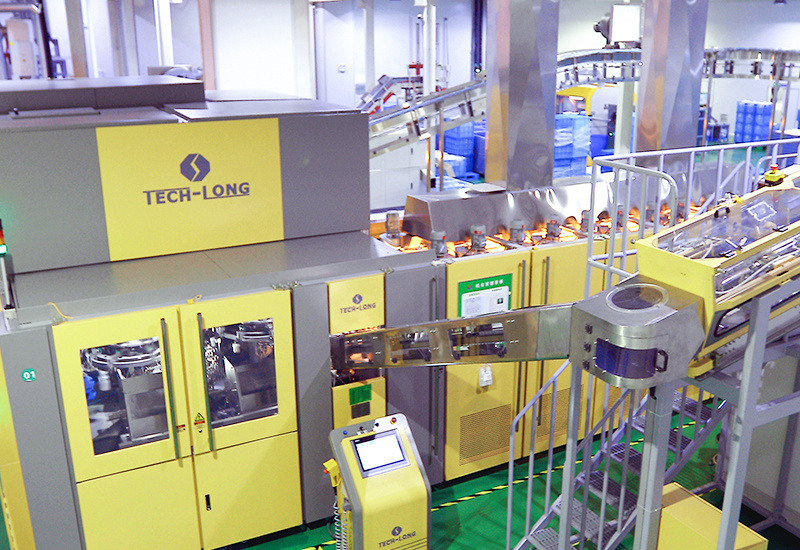 Jinhua Xinsheng Plastic Packaging Co., Ltd. is a subsidiary of Xinsheng Group. In 2016, Xinsheng Group and Mengniu innovated the cooperation model, piloted by Zhejiang Jinhua, and took the lead in trying nationwide to "build factories in factories, support online, and seamlessly connect."
That is, the Mengniu Youyi C product pre-packaging company was established in the Mengniu production plant area. Using full-automatic PET blowing technology, it has manufactured a new type of plastic bottle packaging that is lighter, stronger and more impact-resistant than traditional PE plastic bottles. This pre-packaged product is seamlessly connected to dairy products through a sterile air duct, which greatly reduces the risk of secondary contamination of the packaging during logistics and transportation, and effectively guarantees food hygiene and safety. Practice has proved that this cooperation mode breaks the traditional supply chain decentralized supporting model, more efficiently serves the manufacturing system, and meets the market and production demand for pre-packing at any time.
Jinhua Xinsheng has built a clean facility with complete facilities in accordance with the requirements of pharmaceutical-grade purification workshops, equipped with embryo injection system, rotary bottle blowing machine, high-speed capping machine, automatic detection system and air delivery line. Production equipment has a high degree of automation, strong production management functions, high precision, and strong stability, and is at the forefront of the industry.